For Mimi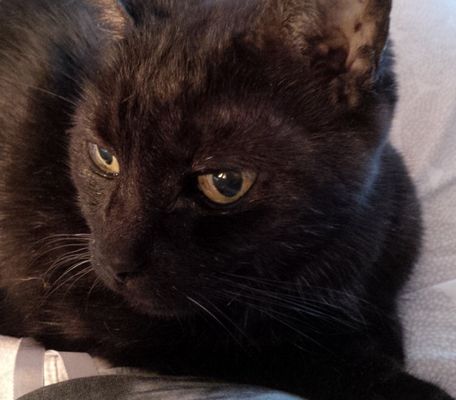 I've never been known as a "cat person". I've actually gone out of my way to say that I do not like cats at all even though I had been living with a cat for 17 years. But, I always thought of it as my wife's cat. Well, the ravages of time eventually caught up with Mimi and it was clear that she had to be put down in order to avoid needless suffering. This happened on May 16, 2016. Much to my great surprise, I was very upset by her passing. She had often been a source of annoyance and frustration for me but when she was gone, I did mourn her. I never thought I would have that reaction for a cat, but I did.

A good friend of ours kindly offered her garden to bury Mimi beside some of her departed cats. So, we buried her and later on spent quite a while looking over old photos and videos taken over the 17 year period. We even visited the exact location where my wife found Mimi many years before. It was a sad time.

The vet gave us a plaster paw-print of hers taken before she went to sleep and a copy of the "Rainbow Bridge" poem. The poem describes the elation experienced when you rejoin your beloved pet after you pass on. I didn't know what to think about the poem's meaning but it certainly did stay with me. Meanwhile, I was busy recording demos for my new "Tropical" album. I started wondering how I could immortalize Mimi in one of the pieces. I thought it would make my wife happy and also be a nice tribute. The difficulty was that most people don't equate a tropical paradise with cats. Birds? Yes. Fish? Of course. But cats??

Around this time, I was composing the ending piece on my album. It is called, "Bye for Now". It represents the conclusion of a vacation but also suggests a return. The title, music, arrangement and Mimi's death all blended together in mind. At last I thought of a way for her to be on my album. Shortly before she passed, my wife recorded hours of her purring into a small recording device. The quality was rather poor and there was lots of background noise. I listened to the purring and selected what I thought was the strongest snippet with the least amount of noise. In the song, she is heard at the beginning and at the end. It seemed fitting to blend her voice with that of the ocean. I liked the effect a lot. To other ears, it might sound like humming or a percussion instrument but it is in fact the voice of Mimi. She is also listed in the musician credits as having provided, "Vocalizations".

Now there will be a permanent archive of the cat I never thought that I liked. I'm still not a cat person per se, but in retrospect, Mimi was a great one.